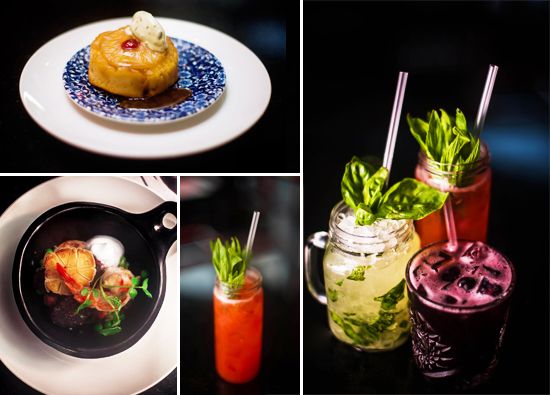 "Prohibition was supposed to usher in a new era of sobriety and restraint. Instead America's "Noble Experiment" was submerged by the madcap wave of the Roaring 20's, when inventive recording artists on their way to fame unleashed spirited sounds that set the tone for the century"
This is what greets you when you open the menu at
Next DoorKitchen and Bar
, a 1920's "themed" bar and restaurant located on Southbank's popular Little Stanley Street.
Next Door, has a superb, modern menu accompanied by a great beer, wine and cocktail list and if I'm honest I was sold the minute they served me champagne in a champagne coupe. To me, a champagne coupe seems 1000 times more sophisticated than your regular champagne flute and it really made me feel special – just a bit more sparkly or glamorous than I normally would when sipping champagne while having dinner with friends (can't quite explain why but who cares it was a coupe!).
But let's talk about the food. It was all…phenomenal. No jokes. I cannot fault a single dish that we tried! The food is all designed to be shared and we found the plates to be very decent sized portions – between four of us we ordered the following and we couldn't finish it all (despite the fact that the two adult males in our party are normally bottomless pits):
Flash fried school prawns, smoked paprika salt – we ordered these with a side of aioli and they were amazing. Crispy and salty and perfectly seasoned...I know they might not be everyone's cup of tea, as you do eat each prawn whole but they tasted sooooo good!

Golden fried polenta chips, salsa verde, sour cream, pickled eggplant (v, gf) – The polenta fries we again had with aioli. They were delicious but not the most outstanding menu item we ordered.

Pea arancini, goats curd aioli, coriander oil (v) – Potentially one of the best dishes of the night. When you bite into the arancini you are greeted with a delightful mint coloured centre and the balance of flavours is really very tasty…ooh my mouth is watering just thinking about them!
Crushed wagyu meat balls, provolone, sticky onion jam – by the time this dish came out I was full so I only managed one teeny tiny bite, but I know these were enjoyed immensely by the men in our party. Phrases like 'best meatballs I've ever had' and 'why don't we have these in England' were uttered.

Garlic prawns, green onion pilaf, green butter & snail beignet – prawns are always an Aussie favourite and these were no exception. The snail beignet melts in your mouth and was utterly delicious – we considered ordering a second plate but decided against is simply due to the sheer amount of food we'd already ingested!
Truffle parmesan fries (v, gf) – we got these to accompany all our shareplates and to they were very nice - a much nicer option than your regular beer battered or regular fries!
Over the duration of our evening we also ordered some local beers, white wine and of course some sparkling to go with our meals - it was a very merry night indeed. The laidback atmosphere at Next Door Kitchen and Bar is really refreshing and it was lovely to sit outside and enjoy the nice weather Brisbane has been having. The staff were also great - super attentive and friendly and I went with 3 Britons who had particular fun guessing where in the UK our waitress was from (it was Manchester and none of them got it right).
I would definitely recommend Next Door Kitchen and Bar for a fun night out full of great food and wine and if you're getting into the Gatsby Spirit with the highly anticipated, soon to be released Great Gatsby film why not reserve a table for the
Next Door's Gatsby Soiree
to celebrate the movie release and their new limited edition cocktail menu on May 30
th
?
You might see me there - I'll be the one drinking Champagne from my coupe...
Images courtesy of The Weekend Edition and The Urban List.