Ortiga
is one restaurant that has been on my 'to do' list for a long time. I have heard non-stop rave reviews about it since it opened in 2010 but had never allowed myself to step inside for fear of temptation (let's just say I live on a 'beer budget' and expensive spanish restaurants don't often factor into it).
So it was with great excitement and surprise that on Friday night, my boyfriend spoiled me with an
amazing
Birthday surprise dinner, downstairs at Ortiga, accompanied by Ina and her man MOC.
The evening began with some champagne and cocktails at neighbouring
Lady Lamington
(they have jugs of Pimms people - jump on it!) before my companions tried to convince me that I got all dressed up in my fancy girl outfit to grab some cheap dumplings and beer
here
.
ALARM BELLS! I was not buying it. Dumplings, whilst tasty, are not really my thing and honestly after the boyfriend encouraged me to wear a pair of my ridiculously-amazing-but-painfully-uncomfortable-special-occasion shoes, I knew we were going somewhere a little more upmarket (no offence to the hardcore dumpling lovers).
Anyway, we ended up downstairs in a cosy little corner of Ortiga where we were greeted by our waitress who recommended we order either 8 small dishes between the 4 of us or 5-6 small dishes and one large dish. We went with the latter and ended up with
way
too much food so if you haven't been and are thinking of going perhaps just keep that in mind.
This is what we ate:
Small dishes
Queso fresco de cabra con puerros – House made fresh goats cheese with leeks and PX.
Selection of Jamones: Jamón ibérico de Bellota, Paletilla ibérica de Bellota and Serrano reserva (20gm).
Conejo en escabeche - Escabeche of Macleay Valley farmed rabbit.

Croquetas (

Jamón

).
Kingfish, apple, fennel and vinegar.
Gambas with samphire, guernicas and hen's egg.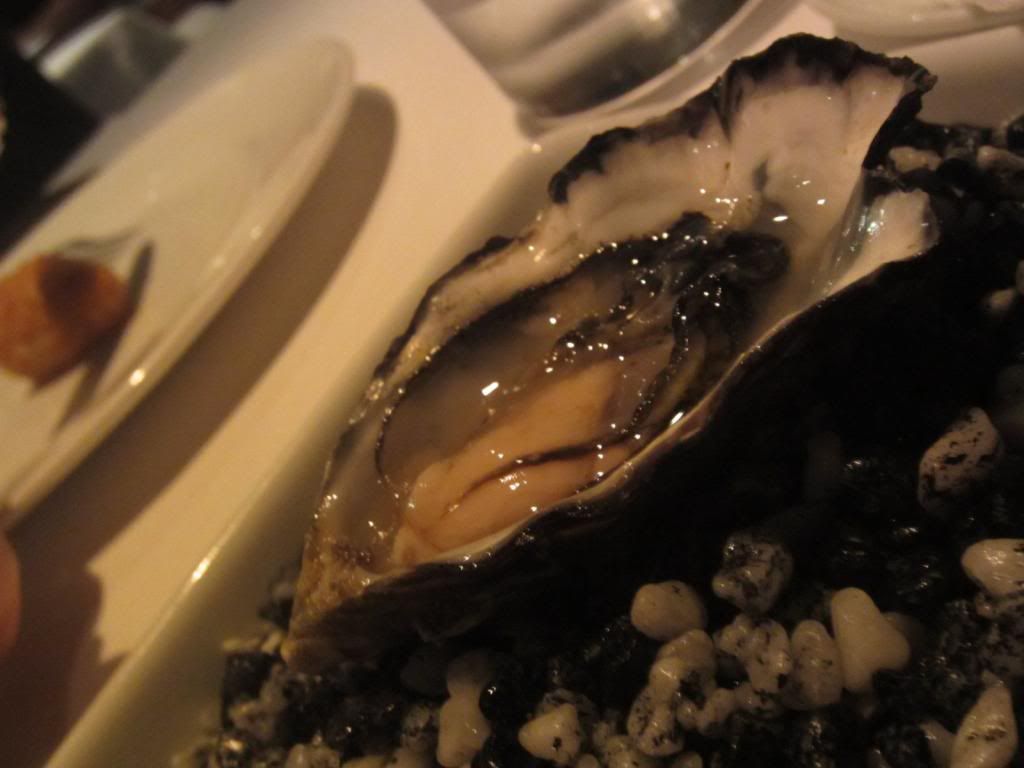 Ina's gluten free option while the rest of us chowed down on croquetas
Large dish
Whole slow cooked lamb shoulder with patatas a lo pobre and lemon puree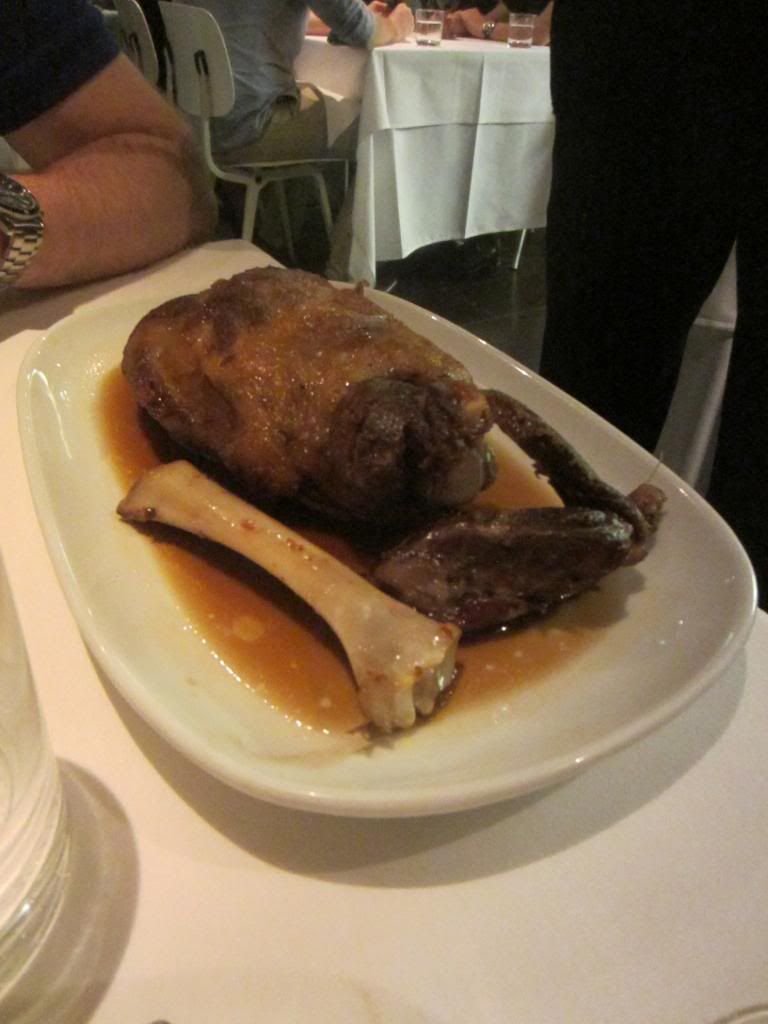 Looks ugly, tastes superb.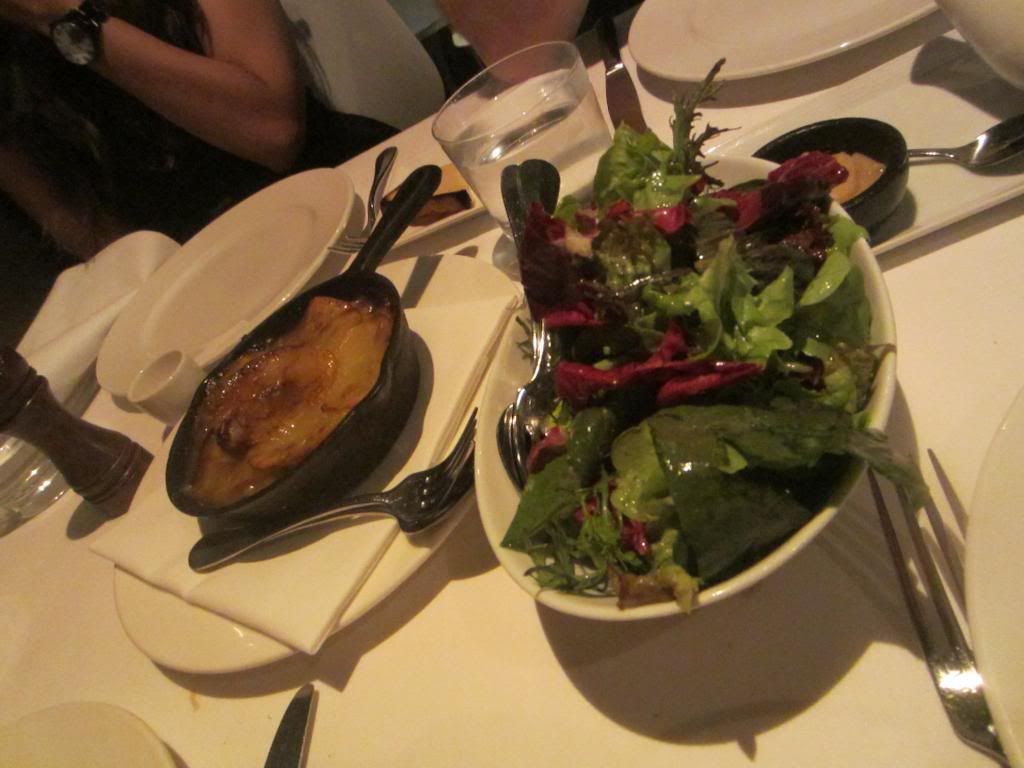 Accompaniments to the lamb
Standout dishes for me were the croquetas, the Selection of Jamones, the Gambas (prawns) and of course the super succulent, melt in your mouth lamb.
I will say that w
hilst not everything we ordered was memorable or perhaps lived up to expectations, all the dishes were beautifully presented and of amazing quality.
The restaurant layout is beautiful and relaxed with lots of exposed beams and an uninterrupted view into the kitchen (where the chefs all looked quite relaxed to be honest). It really is a
beautiful space that allows for intimate dining and maximum enjoyment.
O
verall, the food at Ortiga was amazing, the service was attentive but not intrusive and the general experience was lovely.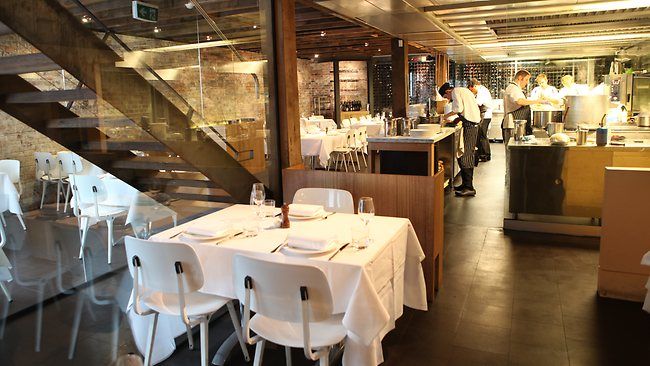 Photo courtesy of The Courier Mail
It was a really special Birthday
surprise and I hope that we will return...fingers crossed we win the lotto soon!
On a side note, if you are trying rabbit for the first time as I was, perhaps try the meat before biting into the liver...it was a little difficult for me to get past that...um..texture...and...ahh...flavour.